I am BEYOND BEYOND BEYOND excited for this book to come out! I have to let you in on a little secret....I've actually already read this book!!! And, it's my favorite Cora Carmack to date! It's just about perfect! I would marry Torres today if he was real, and if Nell didn't exist, and if I wasn't already married...lol. Torres is so great though, I don't think my husband would mind. Who needs Sister Wives when you can have Brother Husbands! Am I right? Okay, I will quite rambling and get on to the beautiful cover. I love this cover. It's sweet, cute, funny and completely Torres!
ALL PLAYED OUT is a New Adult Contemporary Romance and is the 3rd book in the Rusk University Series,
published by William Morrow, an imprint of HarperCollins
. It is due to be released on May 12, 2015!! If you haven't had a chance to read this sexy, fun series yet, be sure to grab
ALL LINED UP
and
ALL BROKE DOWN
!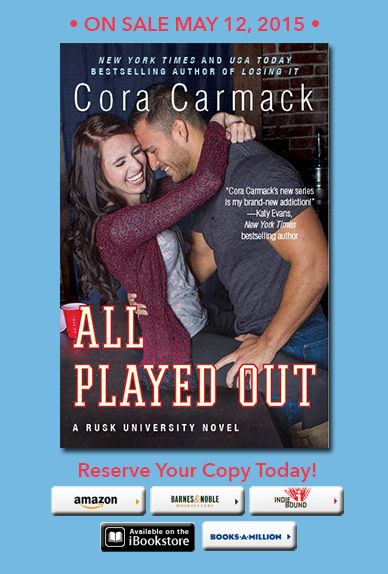 Pre-Order Your Copy Today!
First person in her family to go to college? CHECK. Straight A's? CHECK. On track to graduate early? CHECK. Social life? …..yeah, about that…. With just a few weeks until she graduates, Antonella DeLuca's beginning to worry that maybe she hasn't had the full college experience. (Okay... Scratch that. She knows she hasn't had the full college experience). So Nell does what a smart, dedicated girl like herself does best. She makes a "to do" list of normal college activities. Item #1? Hook up with a jock. Rusk University wide receiver Mateo Torres practically wrote the playbook for normal college living. When he's not on the field, he excels at partying, girls, and more partying. As long as he keeps things light and easy, it's impossible to get hurt... again. But something about the quiet, shy, sexy-as-hell Nell gets under his skin, and when he learns about her list, he makes it his mission to help her complete it. Torres is the definition of confident (And sexy. And wild), and he opens up a side of Nell that she's never known. But as they begin to check off each crazy, exciting, normal item, Nell finds that her frivolous list leads to something more serious than she bargained for. And while Torres is used to taking risks on the field, he has to decide if he's willing to take the chance when it's more than just a game. Together they will have to decide if what they have is just part of the experiment or a chance at something real.
And don't miss the first two books in the Rusk University Series…
Which are both on sale for 99 CENTS!!!!
ALL LINED UP, Book 1
ALL BROKE DOWN, Book 2
And don't forget about Cora's newest work, INSPIRE. It's a New Adult Paranormal and is also on sale for 99 CENTS! That's a whole lot of cora for 3 BUCKS!!!!
Cora Carmack is a twenty-something writer who likes to write about twenty-something characters. She's done a multitude of things in her life-- boring jobs (like working retail), Fun jobs (like working in a theatre), stressful jobs (like teaching), and dream jobs (like writing). She enjoys placing her characters in the most awkward situations possible, and then trying to help them get a boyfriend out of it. Awkward people need love, too. Her first book, LOSING IT, was a New York Times and USA Today bestseller.