The following review is intended for audiences ages 18+.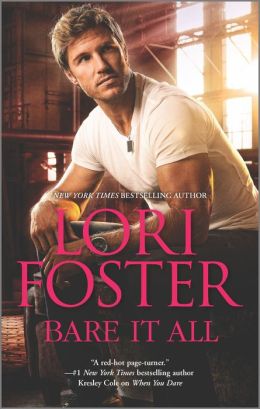 Bare It All by Lori Foster
Reviewed by Middle Sis Jenn
The Sisters Say:

Sexy, Sinful, and oh so Sweet
"A cop's craving to know more about the woman next door could prove fatal in the steamy new novel from New York Times bestselling author Lori Foster"

As the person responsible for taking down a brutal human trafficker, Alice Appleton fears retaliation at every turn. No one knows about her past, which is exactly how she prefers it...until the sexy cop next door comes knocking.

Detective Reese Bareden thinks he knows what makes women tick, but his ever-elusive neighbor keeps him guessing like no other. Is his goal to unmask Alice's secrets? Or protect her from a dangerous new threat? One thing is certain: their chemistry is a time bomb waiting to explode. And with no one to trust but each other, Reese and Alice are soon drawn into a deadly maze of corruption, intrigue and desire-and into the line of fire....
I just love Lori Foster.

I first discovered her Men Who Walk the Edge of Honor series last year, and I devoured them all in a week.

She has everything I love in a romantic suspense novel—alpha males, strong-willed woman who falls under the guise of the damsel in distress, kick butt action scenes, lots of gun fights, and did I say alpha males?

Lori knows exactly how to write a book that I will love; I only wish she had more books come out a year!
This book follows Detective Reese, the amazingly gorgeous, 6 foot 6 Hulk of a man, who wants nothing more than to save the quiet, yet blunt Alice.

Alice is definitely hiding a traumatic past, and the way Reese handles her is perfect.

I just loved watching these two go from hot and bothered one moment to raging mad in the next.

It definitely kept the steam and the humor going.
My favorite part about Lori's books, obviously, is the alpha males.

All her leading guys are strong-willed, jealous, over-protective, and very good with a gun.

They know exactly how to sweep a girl off her feet.

I love how they all are caught off guard by the women in their lives, and somehow, although macho and touch on the outside, they end up falling head over heels in love.

It's the perfect formula for a romance!
I also love all the action scenes.

While this one didn't have the huge climactic ending I was hoping for, it definitely didn't disappoint.

There were plenty of beat downs, gun fights, and jump out of nowhere moments to keep me on the edge of my seat.

Lori Foster interweaves this action seamlessly into her romance, and the steamy scenes definitely just keep on coming.

And Lori knows how to write the sexy scenes.
I also love how Lori brings back your favorite characters from the books before to see how they are doing.

Those characters just stole my heart, and I always get excited to see one of them mentioned, or even better, when they show up for some down and dirty fighting.
If you haven't read any of Lori Foster's books and are a fan of adult romance books, then I highly recommend you try them out.

Start with When You Dare, and then go from there.

You will not regret it.

Lori Foster has a forever fan in me!
****This book is not suitable for teenagers.

It is an adult romance book, and as such, it does have explicit sex scenes.